Filming in New Mexico
Just got back from a great three-week trip to New Mexico where we produced a bunch of videos.  We'll be posting them here as we finish them…. highlights include videos for La Puerta Originals, custom woodworkers with the largest collection of antique materials in the US, Hotel Santa Fe, the only Native American owned hotel in Santa Fe, Betty's Bath and Day Spa, Albuquerque's premier day spa, a neat piano studio in Albuquerque, and a nonprofit transportation advocacy group with the awesome name, Chainbreaker Collective.
We spent the bulk of our trip in Santa Fe and Albuquerque, but had some free time in between projects to drive down to the southern part of New Mexico to visit the Carlsbad Caverns and then enjoy the hot springs in Truth or Consequences on our way back.  Fun fact about Truth or Consequences:  It was known as Hot Springs until 1950 when the host of the popular radio quiz show Truth or Consequences offered to host it in the first town that renamed themselves after the show.  If you ever visit the town, we highly recommend staying at the Pelican Spa.
As part of our work on the Hotel Santa Fe video, we had the opportunity to visit the Picuris Indian reservation to interview their governor, Gerald Nailor, one of the key people behind the hotel. We got horribly lost on the way there (with no GPS or cell phone reception), but managed to stumble onto an amazing southwestern vista in the process.  Meghan captured the above photo on her iPhone.  As further proof that it's the photographer, not the camera, that really matters, the shots I was taking on the Canon 5d weren't nearly as interesting!
Gerald Nailor was a gracious host and shared some of the history of the Picuris and their involvement with the hotel.  Later we spent some more time with him in the hotel gift shop where he sells some of his paintings.  Like his father, Gerald has been an active painter throughout his life.  He actually came up with the concept and logo for the Hotel Santa Fe, a sleeping dear.  Here is one of my favorite paintings of Gerald's, titled "Barbancito".
Santa Fe has quite the art scene.  It seems like there are more galleries here than on Newbury Street, focusing on everything from native art to contemporary abstract paintings.  On the downside, like Newbury Street, most of the other shops are upscale, name-brand stores, focused on tourists, and have little personality. We did, however, manage to find one shop that oozed personality.  Just around the corner from Hotel Santa Fe, Kowboyz has the largest selection of used boots and cowboy hats I've ever seen.  You'd think a place like this would have been born and bred in Santa Fe, but the store actually relocated recently from Hollywood after 25+ years there outfitting celebrities and providing costumes for Westerns.  It's a really fun place to browse and the staff is super friendly.  Here's Meghan trying on one of their hats…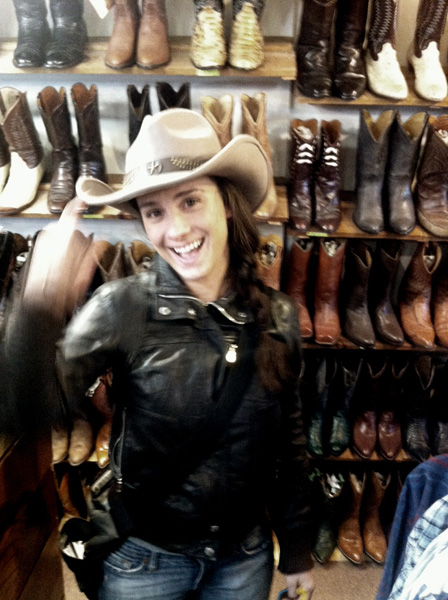 Less than twenty minutes out of Santa Fe there were mountains and snow.  We managed to sneak up there between shoots on day and spend the afternoon snowshoeing.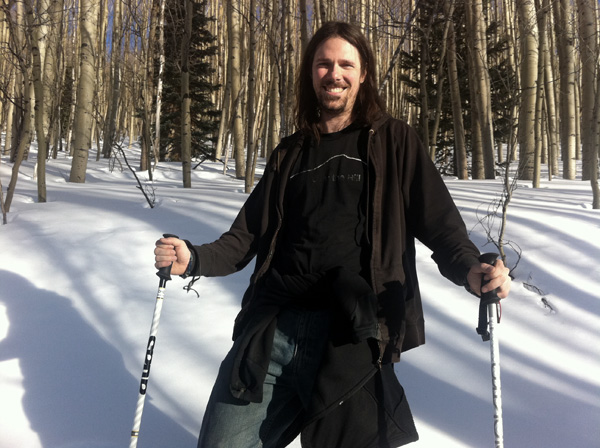 We've only been back a few days, but the one thing we're already missing more than anything is the food.  There are several great Mexican restaurants near our office here in Somerville, but some things you just can't find here, namely the authentic green chili of New Mexico.  I lost track of all the different Mexican restaurants we enjoyed during our trip, but won't forget our favorite stop in Santa Fe, The Pantry.  It's just down the block from Chainbreaker Collective, so we ate there several times.  Here's a shot of two of our favorite dishes…sopapillas for me and the Buenos Dias plate for Meghan.  We have tentative plans to return to New Mexico in the late summer for some more filming projects and a trip to The Pantry will be at the top of the agenda!