"Know your rights" PSA on the big screen (and why thank you notes never get old)
I made it to NYC this past weekend to catch a screening of one of our videos at the New York Civil Liberty Union benefit concert, Broadway Stands Up For Freedom.
The NYCLU project was especially cool because we created a video PSA in collaboration with their Teen Activist Project – an awesome program that engages teens as community organizers and peer educators on civil liberty issues.  The teens were pretty much incredible to work with, and brought tons of energy and ideas to the shoot and pre-production.  They also know how to work snail mail, and this oversized thank you card arrived at our office a few days after the shoot: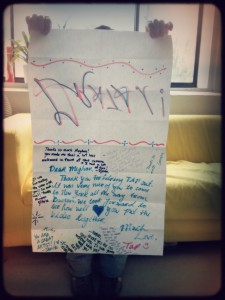 When I wasn't worrying about the possibility of technical glitches, or that I would accidentally drop my camera from the balcony onto an unsuspecting civil-liberty-supporter, I had a great time.
Oh, and here's the finished video: